WARNING: These pages document the feats of a group of experienced, professional drinkers. We must insist no one attempt these stunts without appropriate training and supervision!
The Alice Foundation

(A Key West Drinking Club)
They say if you gave typewriters to a roomful of monkeys, they would eventually create the collected works of Shakespeare.
If you also gave those monkeys beer, they would create this web site!
---
The Alice Foundation is alive and well!

Yes, it has been nearly 6 years since the site was updated, but as the Alice Foundation nears its 10 year anniversary July 17, 2011 we want to let everyone know the foundation is alive and well, though not so easy to find as in days past. Meetings are on Fridays, and rotate through various venues around town. The focus is as much on eating as drinking these days...
Doc Steve Hangs up his Stethoscope
On October 18, Steve celebrated his retirement from medicine with a traditional Hanging-up-the-stethoscope ceremony at the Green Parrot.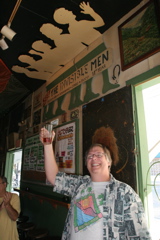 Llamas running wild in Key West
It appears Tom needs a better lock on the gate of his llama and goat farm, Juan got loose and loitered, as shown on the Key West Sheriff arrest site on October 14. As Jerry says, "WE'RE ALL GONNA DIE"!

Alice Visits Colorado

Meg and John took Alice to visit their future home in Colorado...
Alice does Washington

A few pictures of Alice's recent, but short, visit to DC with Meg and John.
Alice in Mallory Square

When you live somewhere, sometimes you forget to do the tourist things. It was therefore suggested Alice take in the sunset scene at Mallory Square...
Alice in California

Alice and Steve had a great time in California, Alice especially loved climbing in the giant sequoias, though the rangers weren't amused, even when Steve showed them his recent article in the Citizen! See the pictures here!
Alice Goes Shopping
| | |
| --- | --- |
| Ever since Jerry lost half of Alice's bikini, she's been in need of a new wardrobe. Dixie solved the problem last week with a trip off the rock to WalMart. See pics of the trip, and of Alice showing off her new clothes at the May 16 meeting, here! | |
Taste of Key West 2005

Instead of the plethora of pictures we were expecting from this year's Taste of Key West, all we got here at Alice Central was the quote "I'm a drunk cripple on mushrooms....there should be a whole separate line for me!" Draw your own conclusions...
A Day of Many Smiles
Meet Alice the Llama!

Alice DaMonkey is not the only animal personality named Alice on the Internet, meet Alice the Llama! We all know about Tom's affection for llamas, but between the "coincidence" of the name, and the strong resemblance pictured here, could it be that Tom loves llamas a little too much????
---
No monkeys were injured in the development of this web site, though millions of brain cells died an untimely death.