WARNING: These pages document the feats of a group of experienced, professional drinkers. We must insist no one attempt these stunts without appropriate training and supervision!
The Alice Foundation

(A Key West Drinking Club)
They say if you gave typewriters to a roomful of monkeys, they would eventually create the collected works of Shakespeare.
If you also gave those monkeys beer, they would create this web site!
Older Alice Foundation News
More of the Logbook Online!
| | |
| --- | --- |
| The last year of the logbook has been added to the logbook page. click here to view. Relive those happy days of yesteryear... | |
Bigfoot Welcome Home Party
| | |
| --- | --- |
| | While the famous cat himself could not make it, an official welcome home party was held for Bigfoot on February 21, followed by a rapidly-becoming-traditional hot dog feast at the Chart Room Bar. See the pictures here. |
Love is in the air...
Alice's favorite music video
Monkey Porn!
Just to quash any rumors before they get started, no foundation members were involved in this scientific study on monkey porn. And it goes without saying Alice did not pose for any of the pictures used, Alice is a good monkey!
Pictures from Bullfight Night
| | |
| --- | --- |
| Celebrating Alice's return from Mexico, and especially Jerry's drunken fall into the bullring, a special event was held January 17. Click here! | |
Pictures from Alice's trip to Mexico
| | |
| --- | --- |
| | Pictures of Alice's trip with Tom and Jerry to Acapulco are here! |
Pictures from Alice's trip to Hawaii
| | |
| --- | --- |
| Click here for pictures of Alice's trip with Jerry to Hawaii! | |
The Alice Foundation Christmas Party
| | |
| --- | --- |
| | Lots of great pictures of the party are here! |
Bar bet leads to world record!
| | |
| --- | --- |
| Motivated by a bet from Tom, Steve did two laps around the Green Parrot bar with his broken ankle and Roll-a-bout in 42 seconds. The record has been submitted to Guinness, no word yet. Even if the record isn't accepted, Steve hopes to score a pity-case of Guinness Stout, because after all, his ankle is busted! | |
Alice in Alaska...
| | | |
| --- | --- | --- |
| | We have finally gotten pictures of Alice's trip to Alaska (which was before the Quebec trip) posted. There are also pictures of the "Drunk n' Monkey" entry in the minimalist Regatta. | |
Alice in The Great White North...
Alice made it home safe and sound from Quebec. A good time was had by both her and Steve, as these photos from the Mount Tremblant Gondola and Parc Nationale du Tremblant attest!
| | |
| --- | --- |
| Alice made a big impression at the Festival International du Blues de Tremblant, she is seen here sitting in with the Deanna Bogart Band (lower right, on the amp). She even got her own backstage pass! Yes, that is an Alice sticker on the stage backdrop. No, we do not know how it got there! | |
Alice repairs an ear laceration during "National Take-A-Monkey-To-Work Day" (January 12, 2003)!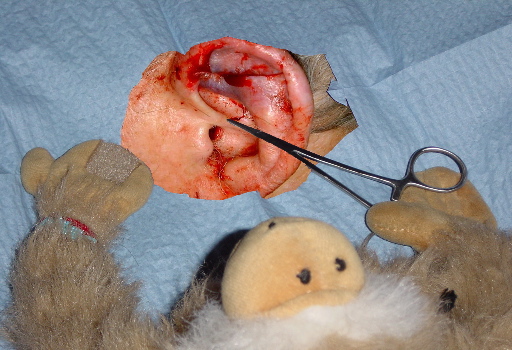 New pictures, and a contest!

I've been slow getting the web site updated, here are some new pictures of Meg and John's visit, Jerry's pool party, Karmosh meets a real monkey, the Saint Patrick's day meeting, and Taste of Key West. At least one of these pictures is in the wrong portfolio, sorry!

The first "Caption This" contest is now officially open, email your caption to this image by the end of June. My entry: "After being cut off, Meg attempted to lick the alcohol from John's aftershave." Kathy's entry" "Sorry, Meg, that tongue sticking thing only works when it's below freezing!" Tom's entry: "a one... a two.... a three....ahh yes..... it takes three licks to get to the center of a johnny pop!" and from Jerry: "Please tell me how to put this thing back in my mouth" Finally, in the better late than never category, from Meg herself "another successfully overserved day at the Parrot for the Alice Foundation meeting. Fondue anyone?" Guess we'll have to call the contest a draw...
Foundation member quoted in book...

Key West award winning authors David Sloan and Chris Shultz have just published their newest book "Don't Do It! 101 reasons not to marry her". It includes thoughts and ideas by "The man who has seen it all" one of our own founding members, pictured here. You can tell by looking in his eyes, errr...eye, this is a guy that knows marriage! Copies can be purchased on the Phantom Press website www.phantompress.com.
April 27 was a rare conjuntion of two traditional Alice Foundation events:
"Taste of Key West" and "Return of the Hockey People".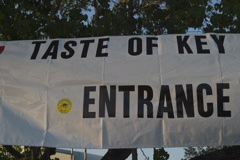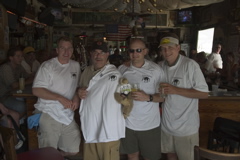 View the pictures here. (Yes, that is an Alice sticker on the entrance sign. No, we do not know how it got there!)
It's "The Monkey's Prayer", from the Gospel according to Kathy:
OUR Monkey, who art in Key West,
hallowed be thy Name
Thy bananas come
Thy will be done
At the Parrot as it is in the Jungle
Give us this day
Our daily beer
And forgive us our drunkeness
As we forgive those who are drunken with us
Lead us not into Sloppy Joe's
But deliver us from obnoxious tourists
AMEN

The second volume of the logbook is now online, including pictures for some of the meetings (look for dates with *'s). This update covers mid-April 2003 through January 2004. Relive the untimely deaths of millions of brain cells!
Foundation member runs out of a bar on Saturday night...

From the Key West Citizen, Monday March 8, about a boat that rammed the dock at the Schooner Wharf Bar:

"Another boat owner, Jerry Miller, said he heard the big crunch and ran out of the bar.

"I saw this big boat sticking up out of the dock; I couldn't believe no one got hurt.""

This is the first known instance of a Foundation member running out of a bar, normally we are surprised if we can walk out without assistance.
It's the Year of the Monkey!

January 22 was the Chinese New Year, and 2004 is the Year of the Monkey! Of course, the Alice Foundation just had to celebrate...creating a one truck parade around Key West, complete with sparklers, costumes, and of course, lots of monkeys! Click here to see the pictures!
Alice, and five members of the Foundation, have returned from Nosara, Costa Rica. Fun was had by all, a sample quote, in response to the Humphrey Bogart quote engraved into the bar at the Guilded Iguana "The whole world is about three drinks behind", Melissa Jean said "Thank God, imagine if they caught up to us!".
The first set of pictures (from Steve) are up here, the second set (from Melissa Jean) are here, the third set (from Lurey) are here, the fourth set (from Tom) are here, the last set (from Jerry) are here,
The Alice Foundation has been mentioned in the Green Parrot blog (the no snivelling zone).
Alice goes out on the town for Christmas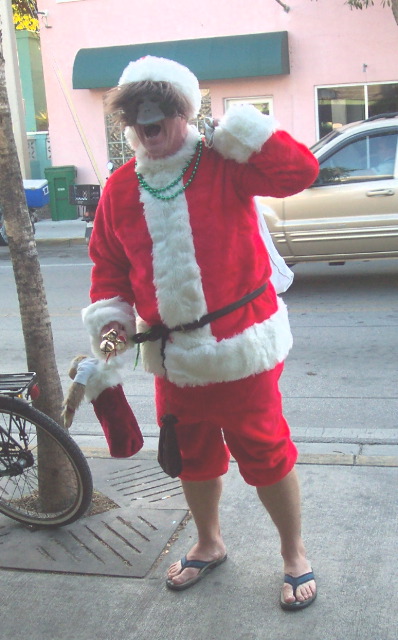 A beaver spanks a monkey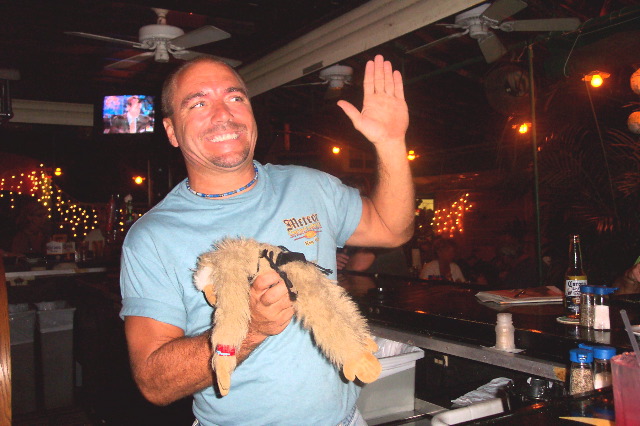 Alice at Benihana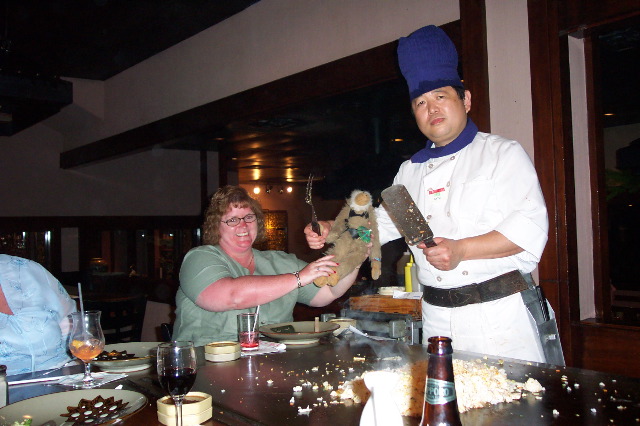 ---
No monkeys were injured in the development of this web site, though millions of brain cells died an untimely death.